Oct 1,2018
designer
0 Comments
For a Statement Gem in Earthy Tones: Discover the Secrets of Stunning Citrine
Once revered for its rarity, Citrine has become much easier to source in recent years. As its market value has shifted, the stone is more affordable than ever. Its bargain price allows Citrine lovers to make use of larger, brighter stones adding a splash of colour to their everyday jewellery. For style on a budget, look no further than Citrine.

Origins
While Southern Brazil remains the largest supplier of natural Citrine in the world, it's also mined in the US, Spain, parts of Africa, France and Britain. Often found along with amethyst, Citrine is actually far rarer than its purple cousin.

While Citrine is considered a variety of quartz, its signature earthy tones are caused by chemical impurities. Iron gives the naturally transparent quartz its yellow hue, producing a stone that ranges from lemon yellow to orange and cognac in hue.
Citrine is also said to carry remedial properties, thought to invigorate, energise and purify the body of toxins. It's also widely used in a spiritual context, known for its healing properties, promoting inner calm, wisdom and self-improvement. A stone that's synonymous with aiding good communication, the gift of Citrine is believed to foster happy relationships.

The Stars Love Citrine!
The royal family are renowned for their appreciation of coloured stones, and Citrine is no exception. Kate Middleton's Citrine danglers have stolen the show on multiple royal visits. Beyond the crown jewels, Hollywood A-listers Kate Winslet and Emma Watson are leading the way when it comes to the Citrine trend. Even Grammy award winner Adele swears by Citrine after her mother gifted her with a few right before her comeback tour. Refusing to go on-stage without them, she's a total believer in the 'success stone,' which helps with focus, clarity, luck, abundance, and good fortune.

Affordability meets style
In terms of price, depth of colour will affect the price tag. 'Usually, the lighter the Citrine, the cheaper it is. The darker the colour, the more expensive it is,' Michael Korakas explains. 'I prefer a deep orange/yellow. To me, that's a high-quality stone.'
Citrine is perfect for the stylish, budget-minded woman looking to expand her wardrobe with affordable, statement jewellery. While it's cheaper than other gemstones, skilled experts like Michael Korakas can easily create a standout piece. 'When it comes to gemstones, they're a more affordable option and they look good,' says Michael, simply.

Buyers beware
To the naked eye, some Citrine gemstones are indistinguishable from the golden topaz. The differences are slight, but a professional jeweller.

Durability
The fact that Citrine is sometimes found in loose sands and gravels speaks to its durability, as it resists weathering in such harsh conditions. While it'll stand up well to daily wear and tear, Michael's quick to point out, 'It's still a semi-precious stone.' Citrine is still heat sensitive and should be protected from excessive exposure to heat or light in order to maintain the colour. For this reason, Michael prefers to incorporate citrine into his cocktail jewellery. 'It's a bold but it's a fine look,' he says of the fine metal work. 'It really shows off the stone.'

Size
Due to their lower price range, many opt for a larger stone to maximise the flash and fire of citrine. Its saturated colour will make a bold statement, whether in art deco jewellery or simpler everyday pieces. 'It's not a hugely popular stone but it's underrated. People don't really know a lot about it,' says Michael Korakas. 'When I made my first range, I had so many of my customers commenting on the deep colour. And that's what makes them bold, they make a statement.'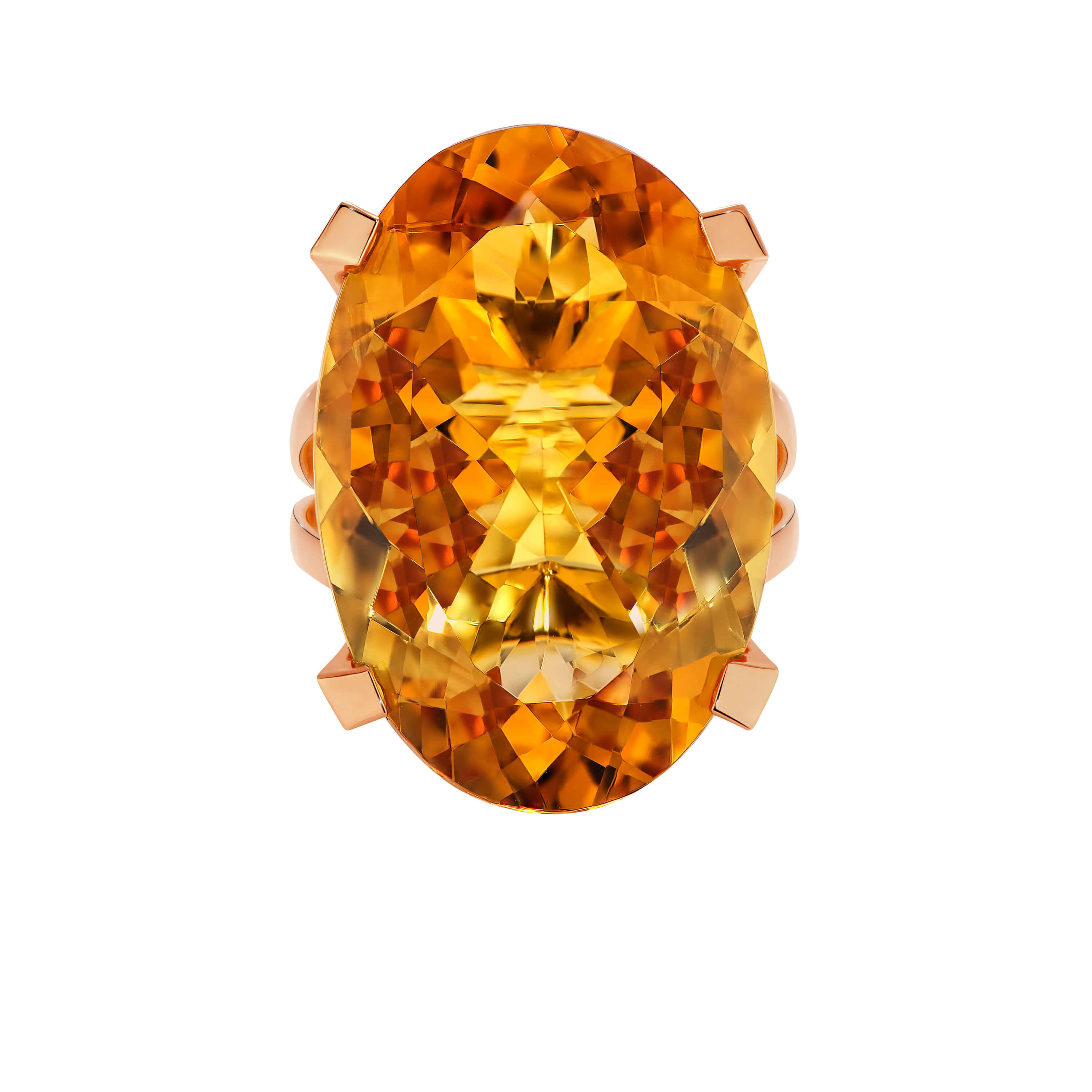 Shop the look!
The luminous Yellow Citrine takes pride of place, centred in place by four distinct claws with an 18kt yellow gold arched split band and swept shoulders. The featured ring uses a 19.5ct Citrine in 18kt yellow gold. This ring can be crafted in 18kt white gold, yellow gold and rose gold.
Inspired by the deep colour and autumnal tones of the citrine, Michael let that shine in his Elements Collections. 'The colours and the warmth…it reminds me of the sun, and the collection I've made for my citrine reflects that,' says Michael. 'The Elements Collection has a range of citrine pieces and they're called Soleil [the French word for sun].'

Take a peek at our stunning citrine range in store, or place one in your next bespoke piece and leave it to Michael Korakas to create a piece you'll treasure forever.
To find the perfect citrine addition for your collection, please visit us online at www.michaelkorakas.com or call 042 203 4680.